Here are just some candid pictures of the pups as they continue to grow, they are so much fun to watch! These are Jessie's 2006 litter.
Mom and Son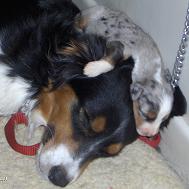 Such Snugglers
Uncle Oreo with Twister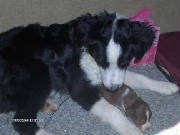 I Claim This Food in the Name of Teddy!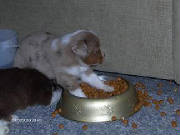 Teddy discovers hard food and loves it!
Zorro and Spud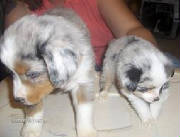 Spud may be tiny but he is sure mighty!
We will ship our puppies to the right homes at the buyers expense. Please be aware that this can be costly as the pup will need to be vet checked and cleared with a Health Certificate, rabies shot, airtravel safe crate and the ticket. As well most airlines will not ship animals beyond certain temperatures. We would really prefer if you could come and pick up the pup, then the pup is able to ride with you as a passenger in the plane, otherwise they must travel as cargo. If you have any questions about shipping your new addition please feel free to ask.
We also offer a life time committment to our pups. If you need some training tips, or ideas on how to handle your new active puppy we will be available to help you in any way we can. Also, if for any reason you are not able to keep your pup during any time in the dog's life we will accept them back and/or help you find a new family. We know that things happen in life that just can't be foreseen and we want to make the transition as smooth as possible for everyone concerned. All this and other information about our life time guarantee is on our Contract that must be read, signed and returned to us before you receive your new puppy. If you would like to read this document please contact us and we will send you one right away.